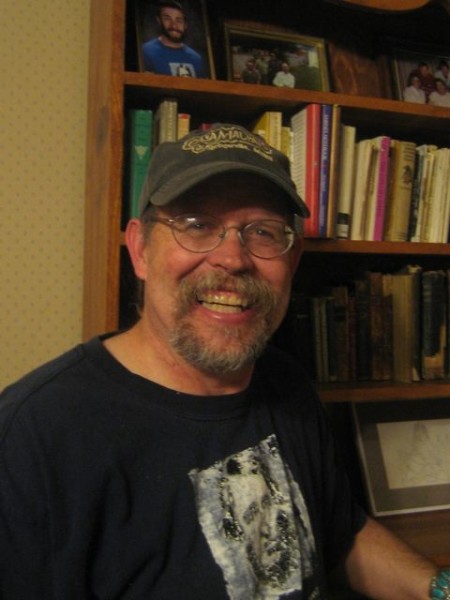 I am always inspired when I see a dissolving billboard. They offer random fragments of letters, partial slogans and parts of faces thrown together with patches of color and line. This reflects how I see the modern world of images that surround me. My art attempts to explore this process of entropy and decay as it interacts with areas of discreet rendering and decoration. I enter into a dialogue with the elements of texture, composition, color and subject. I seldom begin with an end in mind, but look to the process of making a piece to guide me toward a product that records my wrestling with these elements. Many times it is only at the end of this process that I sense the meaning of the work emerge. Thus the dialogue begun during the process of painting continues even after the work is completed.
Compositionally, I use areas of color as markers which give the surface a kind of rhythm, along with stressed surfaces and conventional shapes (i.e. targets, faces, circles, shadows) to set up a field where they may resonate.
Most of the recognizable imagery in my work comes from objects that I have grown attached to, often things that have been in my family for generations. The figures and portraits are usually from my imagination and come from a long love of drawing. I try to use my titles as a collage element in my paintings. They act, not always as a description, but as a discovered scrap added to the mix.
Perhaps most interesting to me is how our visual and psychological fields intersect and bring forth unanticipated and compelling images. Often, while looking at one thing, I find myself thinking of a phrase, or seeing a face drift across my mind. Seldom do I see anything without other images intruding. I am striving to approximate these perceptions in my work.
GALLERY REPRESENTATION
Palette Contemporary Art & Craft
7400 Montgomery Blvd. NE, Suite 22
Albuquerque, NM 87109
505.855.7777
http://www.palettecontemporary.com/
EDUCATION
Advanced Study – Education (K-12 Art Endorsement) – Northern Arizona University 1981-1983
Advanced study – Art & Art history – University of New Mexico Fall 1977
Bachelors of Art in Printmaking – Oral Roberts University 1972-1977
COLLECTIONS
Tulsa Public Library, Tulsa, OK
Oral Roberts University, Tulsa, OK
Church of Epiphany, Flagstaff, AZ
Church of Our Savior Episcopal Church, Pinetop, AZ
St. Peter's Catholic Church, Springerville, AZ
Oblates of St Benedict, AZ
Round Valley Public Library, Eagar, AZ
Camp Gray Catholic Chapel, WI
St. Luke's Lutheran Church, AZ
AWARDS & PUBLICATIONS
Rhetoric of Redemption, Book Cover Illustration, Peter Lang Press
Bardean Gallery Award of Excellence, 9th Annual 2011 Encantada!
Emerald Spring Juried Exhibition, Special Recognition, Cash Award Winner
A Green River Reader, A Frontispiece Map, University of Utah Press
Magdelina Arts Council, Art in a Box- 1st Place
St. Peter's Catholic Church Web Site, Springerville, AZ
Arizona Science Teachers Association Round Valley Teachers Association
Second Annual Midwestern Printmaking I Drawing Competition – Cash Award Winner
EXHIBITIONS
Spring and Summer exhibition, New Mexico Cancer Center – 2012
Tri, Tri, and Tri Again, Fuller Lodge Art Center, Los Alamos, NM – Summer 2012
MasterWorks of New Mexico, Albuquerque, NM – 2012, 2013
La Juanta Galleria, Bernalillo, NM – 2012 to present
Encantada!, Albuquerque, NM – 2011, 2013
Portrait Society of America New Mexico Art League Exhibition, Albuquerque, NM – 2011,2013
Will McNabb Solo Exhibition, Flagstaff, AZ – 2011
Apache County Public Library Mural, Eagar, AZ – 2010
Will McNabb Solo Exhibition, Flagstaff, AZ – 2009
North Country Health Care Mural, Springerville, AZ – 2008-09
North Country Heath Care Mural, St. Johns, AZ -2007
4th Biennial National Print Exhibition, NAU Art Museum, AZ – 2008
Apache-Sitgraves NF Supervisor's Office Mural, Springerville, AZ – 2007 – 2008
Emerald Springs Juried Exhibition, Springfield, OR – 2008
Los Alamos Arts & Crafts Fair, Los Alamos, NM – 2007
White Mountain Historical Society Art Show, Springerville, AZ – 2006
Monks Comer, Santa Fe, NM -'05-present
Round Valley Fine Arts Association, Eagar, AZ – 1997
Episcopal Church of Epiphany, Flagstaff, AZ – 1980
Flagstaff Public Library, Flagstaff, AZ – 1979
Second Annual Midwestern Printmaking, Drawing Competition, Tulsa, OK – 1977